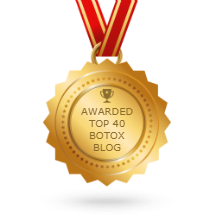 … but of course, we're thrilled you did. We do love our (we think) clever little corner of the beauty blogging world here at RaveBabe, and fully admit that BOTOX® is one of our all-time favorite beauty products.
As for blogs on BOTOX®, it's true we do have those in spades. Like 4 Truths about BOTOX® That Just Might Make You Do a Happy Dance, or that time we discussed the importance of avoiding so-called BOTOX® Bandits.
Do we really think BOTOX® can help heal a broken heart, or improve your poker game? Well, let's just say we do believe that with BOTOX®, all things are possible.
Thanks for the nomination, and please keep sharing that RaveBabe love with the world!
xoxo
Related Posts
Summary
Article Name
What's That? RaveBabe Was Named a Top BOTOX Blog? You Shouldn't Have!
Description
Thanks, lovely readers! RaveBabe was named a Top 40 BOTOX Blog in 2017 by Feedspot. We're truly honored!
Author
Publisher Name
Publisher Logo